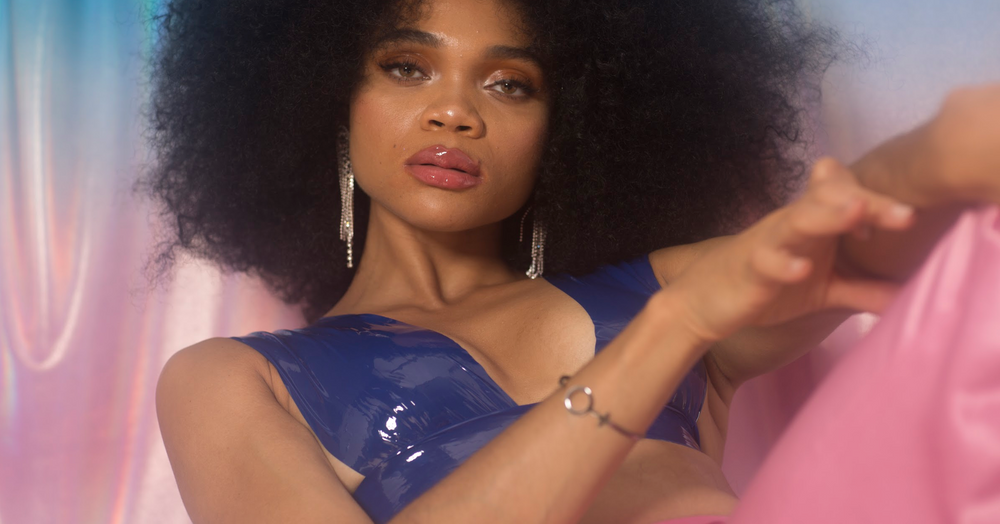 A Chat with Erin Houdini
Erin Houdini describes herself as a rope mistress and anti-escape artist. How cool would that look on a business card? Erin is well known both for her gorgeous custom designed rope and for her classes on rope tying and bondage. We were thrilled to sign up for one of her classes. Erin is a fantastic teacher and the class covered some of the basics that could be used immediately. She also went over some of the themes and practices that keep rope tying safe and make it hot! Naturally we had to follow up and learn more about her and her work.
What is the origin of your rope bondage interest and how long have you been working in the bondage space?
When I was like 3 years old, I'd be watching cartoons and see the pretty girl get kidnapped and tied up by the villain... it seemed like the most fun game in the world, I wanted to be that girl when I grew up! I tried tying myself to a chair with rubber bands (didn't work). I came out of the closet into the public BDSM scene when I was 22, and have been working in it professionally for 4-5 years.
Why do you think people are so drawn to explore bondage? It appears to be a concept that people of all orientations and levels of kink enjoy exploring in some capacity. Do you find this to be true?
Many people find being bound ironically liberating. When your body stops moving, your mind stops moving, and you can finally let go and enjoy the moment. Compressing the body with rope or leather can be a really calming sensation. There's also something hot about the vulnerability and helplessness, the way it forces you into instant physical submission to your partner.
For those who are new: what's the smartest and safest way to get started? Are there any basics they should know or keep in mind?
The best way to start getting into rope bondage is to attend a local class or workshop. Online videos can be pretty good, too. Learn a single-column tie, double-column tie, and chest harness. The basics are pretty low risk, just communicate with each other. Rope should feel good, or at least be the good kind of pain. If you feel numbness or tingling in your limbs, alert the top so they can run their fingers under the ropes to adjust them. If the feeling persists, just end the scene and untie.
What has your interest and involvement in rope bondage meant for you? What's the result of exploring this art?
I've always enjoyed creating and performing, having been a band dork when I was a kid. When I came out into BDSM and realized what was possible with rope, my life started to make a lot more sense and become a lot more unified. I was able to use an unusual talent to create, perform, connect with others like me, and even go into business. Having all that come together has been really fulfilling.
For some, this might be a concept that is relatively unfamiliar (but obviously intriguing). Do you have any further suggestions for those who'd like to dive deeper? Any artists or other resources that you find to be doing interesting work?
If you wanna dive deeper into rope, just keep taking classes, try to get to ones taught by different people, look at ropework online for inspiration, and don't be afraid to experiment on yourself or a consenting demo bottom. Being able to use the basics to envision a tie and make it happen, or to improvise as you go, that's when you know you're really getting into it. Don't fall into the trap of thinking there's a "right way" or that you need to memorize specific steps to specific ties. As long as it feels good, and the ropes don't unexpectedly tighten or loosen, you're doing fine.
You produce your own gorgeous, colorful and bondage friendly rope. How did you get started with this?
When I was first getting into rope art back in '08 or so, I thought it'd be really cool to have colorful ropes to complement my bottoms' outfits or skin tones. I experimented in my kitchen with dying ropes, eventually producing some bright pink and bright blue after much frustration. So many people who saw them would ask where I got them, and if they could buy some for themselves, so I just started making more and more, selling them at my workshops, gaining popularity, and eventually turning it into a successful business.
The colors of your rope are stunning. Color can communicate so much emotion and expression. What colors do you find people gravitate towards the most?
Overall, the traditional BDSM colors are by far the most popular: reds, blacks, and purples. The UV colors are pretty popular, too. People always notice the really bright colors first when they see them in person, they're unlike any other ropes out there. In my personal life, it's always black rope for me... colors are light and playful, i'm usually more into the severity of the black rope.


Big thanks to Erin for literally teaching us the ropes!  To find out more about Erin and to order rope, check out her site (that she built all by her bad-ass self) here! 
UNBOUND BABES IN THE WILD